Somebody painted this park bench in rainbow colors. I am totally loving it. I mean – it's not just 'painted' but actually somebody took the time and effort to either draw little drops, or maybe the paint was just of the right fluidity to draw the drop traces itself. However it was done – now it's a great art piece.
Seen somewhere near Bernauer Strasse.
Another view to the TV Tower – this time seen from Brunnenstrasse, close to Bernauer Strasse.
The doors to the Auditorium upstairs of the Haus der Kulturen der Welt HKW.
Stairs and shapes outside the HKW Haus der Kulturen der Welt.
View on the Backside of Haus der Kulturen der Welt HKW in Berlin Tiergarten. On the right you can see the bell tower housing the Carillon, a large, manually played concert instrument, comprising 68 bells weighing a total of 48 metric tonnes.
Find out more about the Berlin Carillon and when it is played live on the website at www.carillon-berlin.de.
Upstairs / inside the more or less freshly renovated Haus der Kulturen der Welt HKW.
The renovation work of the building was actually already completed in 2007 for the 50th anniversary of the original opening of HKW.
Near the Västra Hamnen area you will not only find nice beaches "Ribersborgsstranden" (Ribersborg Beach) – also a reserved beach area for dogs – but also green. Thousands of square meters of nicely cut grass to sit on, have a picnic, spend time with friends and family. Or just go for a walk and enjoy the view to the baltic sea, the Öresund Bridge and the Malmö skyline – like for example – the Turning Torso.
Near Västra Hamnen you can find different marinas – or is it a marina? It looks more like a public parking for boats to me – but anyways… Boats. In the distance you can see the Öresund Bridge.
The picture is taken from the pedestrian bridge connecting Propellergatan
View to the Turning Torso from in front of a supermarket in Västra Hamnen.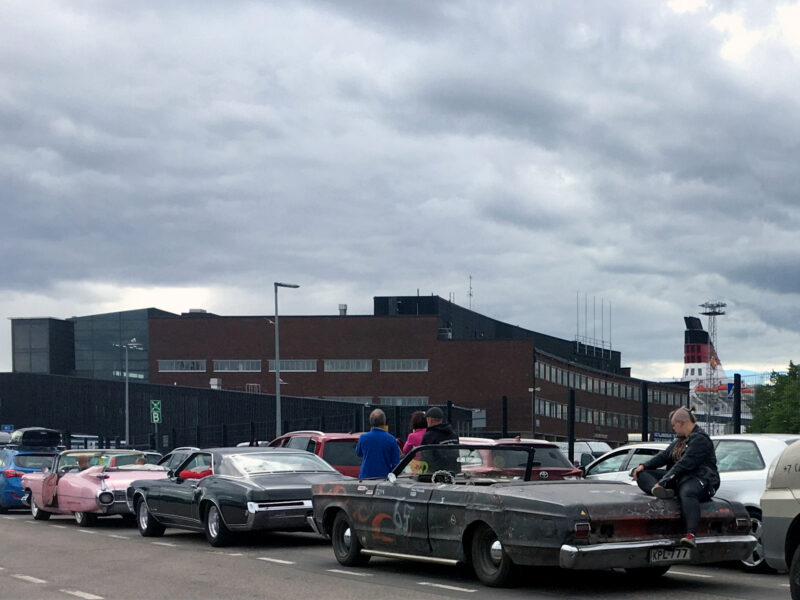 Waiting for the boarding of the ferry to Stockholm we were kind of lucky. Next to us – or actually all around us a number of Classic Cars were waiting with us. Buicks, Chevrolets, Cadillacs, a few Ford Mustang – all there. Beautiful.
Doing a little research we found out that the Classic Cars were heading towards a Classic Car festival in Sweden – the Power Big Meet car show. With about 25.000 cars attending the Power Big Meet is the world's largest classic car show. Find out more on this page at Wikipedia or on the car show's homepage at bigmeet.com.