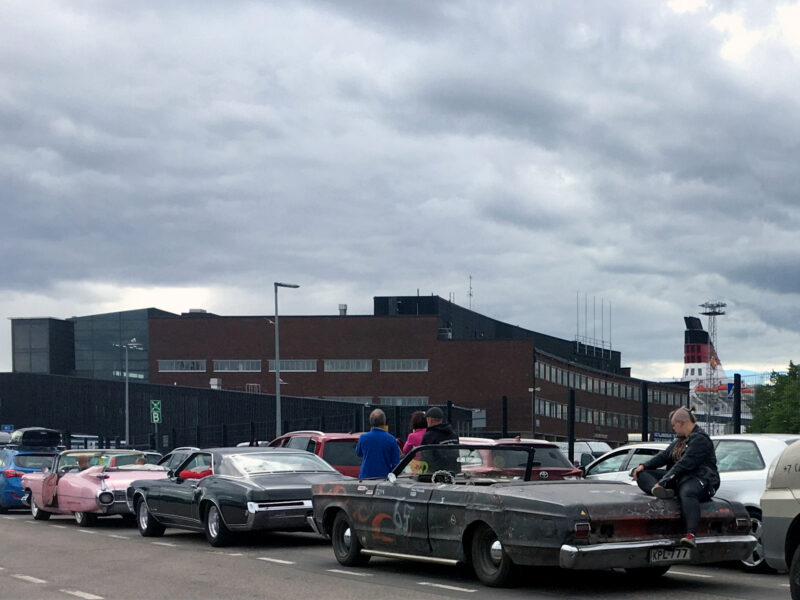 Waiting for the boarding of the ferry to Stockholm we were kind of lucky. Next to us – or actually all around us a number of Classic Cars were waiting with us. Buicks, Chevrolets, Cadillacs, a few Ford Mustang – all there. Beautiful.
Doing a little research we found out that the Classic Cars were heading towards a Classic Car festival in Sweden – the Power Big Meet car show. With about 25.000 cars attending the Power Big Meet is the world's largest classic car show. Find out more on this page at Wikipedia or on the car show's homepage at bigmeet.com.
One day we took a boat from the Market Square to one of the islands around Helsinki and enjoyed this great view. Of course I took a couple of pictures. On this photo you see the Helsinki Cathedral, a.k.a. "The White Church" (Finnish: Helsingin tuomiokirkko, Suurkirkko; Swedish: Helsingfors domkyrka, Storkyrkan) and the central Market Square (Kauppatori in Finnish, Salutorget in Swedish) as seen from the Sea.
Find this photo on instagram right here.
And you can also license this photo from here.
I took this photo when we were taking a boat from the market square to the islands around Helsinki. In the foreground you see the lively central Market Square – in the background the impressive Uspenski Cathedral. On the right side the iconic Stora Enso building by Alvar Aalto form 1962, also known as "The Sugar Cube" because of its exterior made of pure white Carrara marble.
One of my favourite Helsinki skyline views – to the skyline of Merihaka. The photo was basically shot in the middle of the night – a quarter to midnight to be exact.
The Cruise Ship MS Deutschland in Helsinki. The ship is a high class Cruise Ship – sailing the seven seas. In Germany the Deutschland is very well known for its TV appearance in the TV series "Traumschiff" (Dream Ship / Ship of Dreams).
The Svartholma Sea Fortress as seen from the sea – from a Distance. And if you look closely you can see there is also the moon hanging above the fortress island.
A view to the 'backside' of the Svartholma Sea Fortress. In this photo you can see the fortress walls – and two boats parked near the main harbor of the island.
Another view from the Svartholma Sea Fortress – a Sailboat passing by.
View to the Baltic Sea from the Svartholma Sea Fortress.
This is what summer in Finland feels like: a relaxing afternoon by the lake. Just some fish in the water, birds in the sky – and a couple of clouds passing by. Later the sauna will be on and we'll have some food and some drinks – by the lake.